Lucy Electric Thame are continuing their support of John Hampden school in 2023 to help children learn about biodiversity and the natural world. In January the company bought the school four bee homes, two bird boxes and a bird table for their site in Thame. These items were purchased from the RSPB (Royal Society for the Protection of Birds) charity and were delivered just in time for the school to participate in the RSPB's National Big Schools Birdwatch. This involves schools across the UK joining the largest garden wildlife 'Citizen Science' project by spending one hour tracking the birds they see in their school grounds.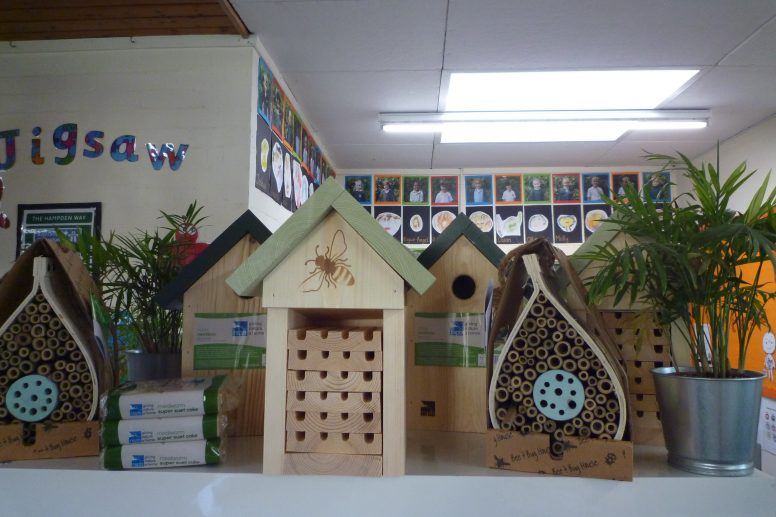 Thame's Marketing Executive and Group CSR specialist went down to the school to present the bird boxes, bee homes and bird table to the school. They were delighted to be asked to spend an hour with the children helping them to note down all the different types of bird they could see. The children were excited to spend some time out of the classroom in the fresh air. Not too many small birds were visible as they are quite shy and six-year-old children were very loud in their enthusiasm, but at one point there were ten majestic red kites soaring above the school.
Mrs Arnett the Year one teacher said:
Thank you so much for the generous gifts of a bird table, bird nesting boxes and bee homes.  The children really are very appreciative of such Eco-friendly gifts. We all hope that you enjoyed popping in to help us.  Thank you for spending time with the children to help identify birds, making their learning so fun and interactive.
The bird boxes and bee homes will be located in their Forest school where last May, a team from Lucy Electric Thame also built bug hotels.