Lucy Electric Thame is a keen supporter of Thame Green Living (TGL) and the local community group 21st Century Thame.  Since 2020 Lucy Electric has contributed to the planting of 4,000 trees around the Thame area as well as supporting the work of Thame Green Living who have developed a 10 year plan, the first of its kind in the UK for a cleaner, greener Thame.
TGL has been doing a fantastic job of rewilding areas of the town to support biodiversity, so when they approached the Lucy Electric office in Thame about planting trees on unused steps of land near the site we were delighted to take part. The project required some planning and development, which included permissions to plant on the land identified. Once these where obtained a team from our site where mobilised and ready to get planting!
On the 7th of December, the Lucy Electric Thame team braved the freezing weather and rain to plant 13 trees on land next to the Lucy Electric site. TGL were fantastic and organised which tree species where best to purchase for the type of soil and location, they also organised help from 21st Century Thame, to come along on the day and advise on planting.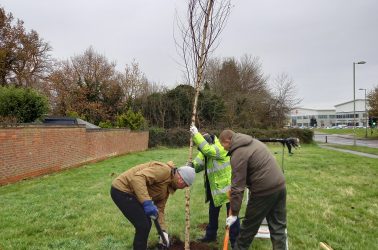 Despite the bitter cold and wind, the team worked hard and got each tree planted in less than two hours. It was arduous work as under the grass was a lot of stones and tarmac, even a horseshoe was found which was laid next to a tree for good luck.
Thank you to all the Lucy Electric Volunteers, TGL and 21st Century Thame who supported this fantastic sustainability and CSR activity.
Lucy Electric will continue in its support for both TGL and 21st century Thame in their work to make Thame a greener, cleaner and sustainable town and we look forward to partnering with both organisations in the future.
https://www.thamegreenliving.org.uk/
https://www.21stcenturythame.co.uk/