We recognise that our operations have an effect on the local, regional and global environment where we live and work. Our entire workforce is committed to working for continual improvements in environmental performance and the prevention of pollution. This is achieved through working with environmental regulations, laws and adopting codes of practice that are recognised as setting the standards of environmental performance. Specific policies are written to cover all of the major environmental aspects of our business and include addressing issues such as energy use, waste production, air emissions, deleterious materials and resource use. We manage and implement this through our coordinated Environmental Management System. All our assembly facilities are ISO14001 approved.
Taking care of our planet
A strategy for sustainable waste management is in place and we recognise our responsibility to recycle materials wherever possible. This also means disposing of all waste through safe, sustainable and responsible means. We have established a culture of energy management and saving at Lucy Electric to continuously optimise usage.
The Waste Batteries and Accumulators Regulations 2009
This regulation was introduced as a preventative legislation to reduce the harmful impact of batteries on the UK market. All batteries have a potential to cause harm to the environment if they're not handled, stored, or transported in the correct manner. It is a requirement for batteries to have the crossed out wheeled bin symbol.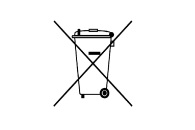 As a producer of industrial batteries under the Waste Batteries and Accumulators Regulations 2009, we Lucy Electric produce Lead Acid and NiMH batteries. As part of our commitment to reducing the impact of our own operations and those of our customers, Lucy Electric are obligated to take back waste industrial batteries supplied to an end user for treatment and recycling. We are required to do so free of charge and within a reasonable timeframe in any calendar year we place new industrial batteries on the market. For customers of Lucy Electric Products, please contact your representative contact at Lucy Electric to discuss further, or contact our company on ThameStoresInformation@lucygroup.com. We will agree the necessary arrangements for the return, proper treatment, and recycling of the waste industrial batteries.
We are also required to record the amount (in total weight) per year of batteries we sell. We do this through a battery compliance scheme, Ecosurety. Our Batteries Producer Registration Number (BPRN) is BPRN06161.
Waste Electrical and Electronic Equipment recycling (WEEE)
Recycling of WEEE is a specialist part of the waste and recycling industry. It is a rapidly growing sub-sector due largely to the implementation of the original WEEE Directive in the UK by the WEEE Regulations 2006, With that came the associated requirements for the recovery, reuse, recycling, and treatment of WEEE. The Waste Electric and Electronic Equipment (WEEE) Regulations 2013  became law in the UK on the 1st of January 2014 and replaced the 2006 Regulations. The new Regulations transpose the main provisions of Directive 2012/19/EU on WEEE which recasts the previous Directive 2002/96/EC. These regulations also provide for a wider range of products to be covered by the Directive with effect from 1st January 2019.
Discarded electronic equipment is one of the fastest growing waste streams in the industrialized world, due to the growing use of these products. Effective collection, reuse and recycling systems ensure that this discarded equipment does not overwhelm our landfills and other waste management systems. You can help reduce electronic wastes and protect the environment by making responsible decisions when your electronic products reach their end-of-life.
Lucy Electric's Low Voltage products fall under the umbrella of the WEEE regulations and therefore should be disposed of at the end of life accordingly. As part of our policy to reduce the environmental impact of our products at the end of life, Lucy Electric subscribes to a take back scheme through B2B Compliance under the Producer Registration number WEE/AB4087SY. If you require a WEEE collection regarding any of Lucy Electric's Low Voltage products, please contact B2B Compliance directly (https://b2bcompliance.org.uk/).