The Caribbean island of St Kitts currently relies almost entirely on diesel for electricity generation, leaving it vulnerable to global oil price variations that directly impact the cost of electricity. The island's electrical power generation, transmission, distribution and retail are provided by the St Kitts Electricity Company (SKELEC), a public utility company. At present, SKELEC has one power station with a total capacity of approximately 43 MW, to service a peak demand of approximately 24 MW and a base SKELEC, together with the St Kitts' Government, aims to shift away from diesel powered electricity to more sustainable sources of energy.
As an island nation, St Kitts has the opportunity to take advantage of renewable sources such as tidal and off-shore wind, as well as geothermal and solar. Using these energy sources will create a more diversified energy mix, meaning the company and its customers are less likely to be impacted by unpredictable fluctuations in oil price.
The Challenge
The economic growth and development of a country depends substantially on the reliability of its electrical power supply. Furthermore, the growth of embedded renewable generation brings its own challenges, including lower voltage generation, changes in power flow, and changes in supply and demand.
SKELEC identified that a network management system comprising a SCADA Control Centre and Remote Terminal Units (RTUs) installed throughout the electrical network in secondary switching stations, would prepare the utility to embrace future challenges. The new system would enable the transfer of real-time data using standard communications protocols and enable instantaneous remote control and state monitoring of the overall grid.
It would also would allow the company to proactively manage the increase in variable load caused by different sources, in real-time, and support the implementation of an ongoing smart grid project, including efficient smart metering and smart electricity utilisation.
Moving to a fully remote-automated system was a big step for SKELEC, since only a small number of its switching substations contained locally automated switchgear; the majority were manual.
Lucy Electric's goal was to create a bespoke network management solution, flexible enough to integrate into SKELEC's ongoing smart grid project. The solution comprised a robust SCADA Control Centre to control and monitor the primary power station including the 10 generators and the vital secondary switching substations, through a secure communications architecture.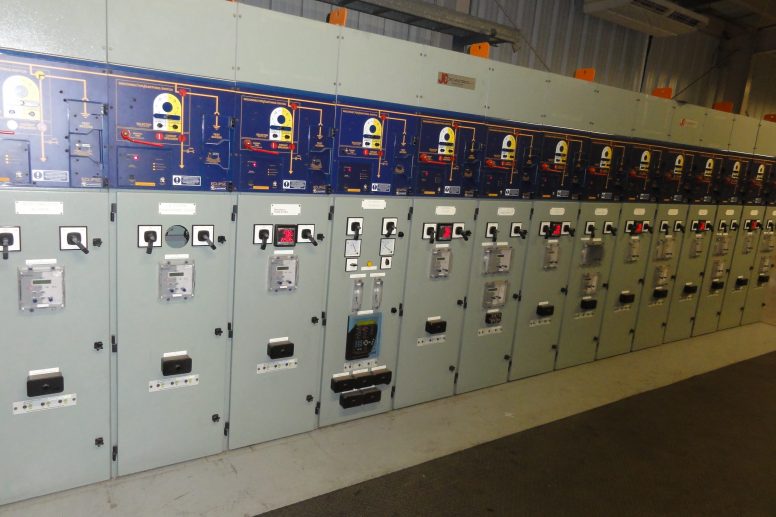 The Solution
Lucy Electric's solution was implemented over a two year period and included the following elements:
Build the SCADA server and control centre rooms in SKELEC premises, scoping the civil work and designing the necessary SCADA interface infrastructure at the first stage
Develop an in-depth understanding of the specifics of the power station's electrical operation and electrical circuit drawings for the generators and feeder bays
Define and establish a reliable and fast communication system between the existing power station protection relays (IEDs) and the SCADA server room
Develop the SCADA system to allow the real-time control and monitoring of the entire power station
Develop and provide a DMS system with the geographical topology of the controlled electrical network
Define and establish a dual redundant SCADA LAN between the control centre and server room, and provide remote access throughout VPN tunnelling and firewall gateways – understand the SKELEC distribution network in terms of network operation and protection selectivity
Deep survey each secondary substation in terms of premise conditions, location, existing electrical switchgear, local field operations and available communication coverage
Define and establish the secondary (backhaul) communication system between the secondary switching substations and the SCADA server room using public GPRS and broadband service providers and dynamic IP's via VPN tunnelling and firewall secured polices
Establish the primary communication system between the secondary switching substations and the SCADA server room using the SKELEC's smart grid communication link
Develop the SCADA system and databases to allow real-time control and monitoring of the vital secondary switching substations
Field installation of new SF6 Lucy Electric automated ring main units (RMUs) and retrofit kits at the vital secondary switching substations
Field installation of new Lucy Electric Gemini RTUs, and set up of the primary and secondary communications medium to SCADA
Provide factory and site acceptance tests throughout all stages of the project
Lucy Electric successfully met SKELEC's expectations by providing an overall distribution management system as show in figure 1 (below). The technical solution was designed to be interoperable with the third party smart grid project, and the first step towards developing a fully advanced DMS system in future.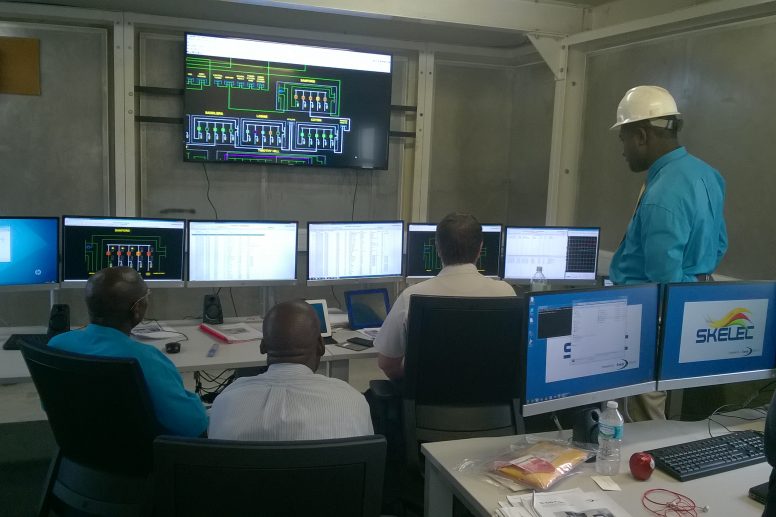 Overcoming the technical and environmental challenges
During commissioning, hot and humid weather conditions were a daily challenge for the teams, with temperatures of 50 degrees Celsius common at the substation sites. Lucy Electric switchgear and RTUs were specified to meet these challenging environmental conditions and operated effectively despite the high humidity and temperatures.
The smooth running and delivery of the project was largely down to Lucy Electric maintaining a very positive working relationship with the SKELEC team. Over the course of the project the team built up trust with the client by consistently delivering the project to plan. When any issues were encountered, be they technical or operational, SKELEC and Lucy Electric were able to resolve them by working together.
A further complication was that during all stages of the project, Lucy Electric, in consultation with SKELEC, had to deploy the solution under live operating conditions in order to minimise the impact on SKELEC's daily network operations. Additionally owing to the criticality and redundancy of the distribution network and tight implementation schedule constraints, a comprehensive, structured and detailed outage plan had to be created.
Like any large project, Lucy Electric had to liaise with several organisations, in different countries across multiple time zones. Coordinating all product development and logistics between Dubai, St Kitts and the UK, with tight timelines for equipment inspections, shipping and in-country clearance of all goods was a major challenge, but an efficient logistics operation helped minimise the costs of storage and product development.
The complexity of implementing and testing the secondary communication infrastructure and interfacing with the primary link via a third party implementing SKELEC's smart grid project (along with third party vendors) across multiple time zones, proved to be extremely challenging. To keep the delivery of the overall communication solution on track, regular meetings between all parties were held to mitigate technical issues.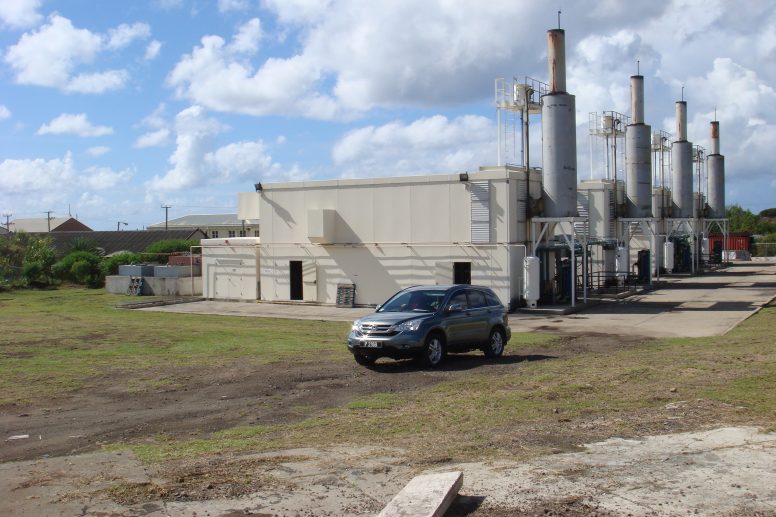 The Outcome
Lucy Electric delivered the entire project ahead of schedule, on budget and to SKELEC's requirements. With the vital secondary switching substations of St Kitts' electricity distribution network now automated and managed from a central location, fault identification, isolation and restoration times have been substantially improved. This has proved to be particularly valuable, delivering significant cost savings through improvements to operational efficiency, reliability, network planning, and customer service quality.
The Lucy Electric team also worked with SKELEC to create a network automation roadmap for the future to support the evolution of electricity generation on St Kitts. The new SCADA/DMS System is completely scalable, allowing additional automated field devices or any third party system to be easily incorporated into the deployed management network solution.
In addition, the SCADA / DMS system has the capability to incorporate the on-going SKELEC smart grid initiative at a later stage, as part of the Energy and Electricity Sector Regulatory Framework strategy. Cartwright Farrell, SKELEC CEO, said:
"Lucy Electric were fantastic partners for this important project. We have an ambitious aim to include far more renewables as part of the energy mix of St Kitts, and having an automated network is a crucial part of this. The SCADA system delivered by Lucy Electric provides us with future proof network automation, improving efficiency even as our distribution and generation expands and changes. And as a result of better network visibility our engineers expect to see immediate benefits in our day-to-day operation, through faster fault identification and resolution, reducing outages."
Furthermore, Lucy Electric's solution will play a vital role in the growth of the island's electrical power supply, by providing SKELEC with the correct tools to operate, plan and develop the network in a sustainable way, through lower fuel costs and the more efficient use of energy.
Reducing reliance on external suppliers of fuel by moving towards renewable generation sources will help combat climate change, and make St. Kitts a more sustainable and competitive nation.
John Griffiths, Lucy Electric CEO, said:
"We're particularly proud of our work for SKELEC. It speaks volumes that the team was able to deliver a working solution ahead of schedule, on budget and to client specification. The successful result of the project was down to both our first class technical expertise and management and to the excellent working relationship the team built with SKELEC. It was a pleasure working with them and giving SKELEC an important building block to achieve their vision of providing an environmentally and economically sustainable way of delivering electricity to St Kitts."